The Unlimited Wash Club is a convenient, affordable way to keep your car clean. Choose between full service or exterior packages with no long term contracts. Feeling good in a clean car has never been so easy!
• Purchase & register plan (using any major credit card) at any Eager Beaver Car Wash location.

• An Eager Beaver employee will apply Unlimited Wash Club sticker to windshield.

• Automatic monthly membership renewal - no long term contract!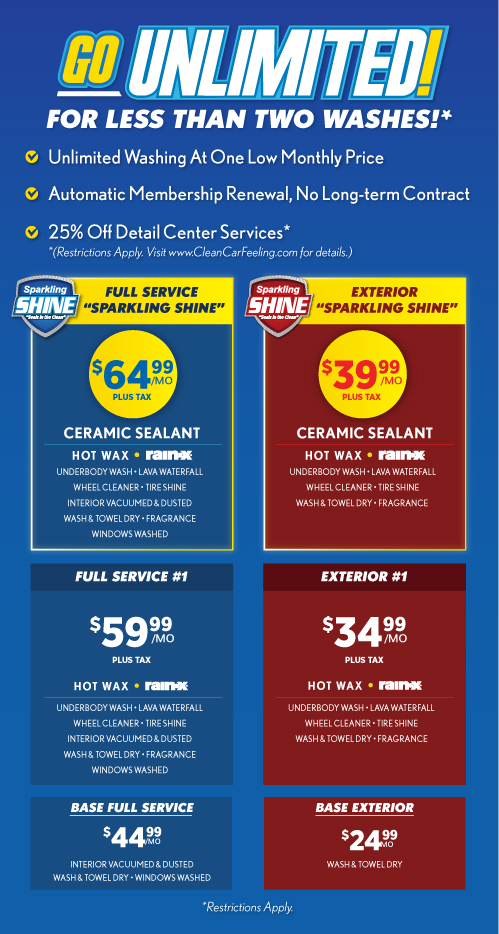 The Unlimited Wash Club is a convenient, affordable way to keep your car clean! Did you know you can save on detail services?



*Restrictions Apply: Discount applies to exterior and interior detail menu services only. Excludes all detail cards and gift certificates. Cannot be combined with other promotions, discounts or coupons.
Stop by and speak to a member of our team to learn more about all the ways you can save while "Feeling Good In A Clean Car" with the Unlimited Wash Club! Click Here to find a car wash near you!
Yes, you can use the unlimited pass every day!
Yes! You may use your pass at any of our car wash locations.
You can sign up at any Eager Beaver location.
If you have questions about signing up or how the program works, visit one of our stores and our team members will be able to best assist you.

If you are a member already and have questions about your account, get in touch with us through our 'CONTACT' tab.



This Unlimited Wash Plan is for personal use only, not for taxis or app based transportation services such as but not limited to Uber®, limousine, dealership or commercial use. Plan cannot be combined with other offers, discounts, wash tickets or gift cards. Memberships are non-transferrable.

Car washing available during normal business hours subject to weather closings, major holidays and equipment maintenance.

Only employees of Eager Beaver Car Wash are permitted to apply windshield tags.

Tampering with Unlimited Pass sticker will result in cancellation of wash plan.

UNLIMITED MEMBERSHIPS WILL BE BILLED AUTOMATICALLY ON A MONTHLY BASIS CORRESPONDING WITH THE CUSTOMER'S SIGN-UP DATE.

Eager Beaver Car Wash must have five days' notice of cancellation before the next billing cycle. No refunds of mid-month cancellations. We reserve the right to modify or cancel this program and specific memberships at will, at any time.

To cancel memberships, visit any Eager Beaver Car Wash location.